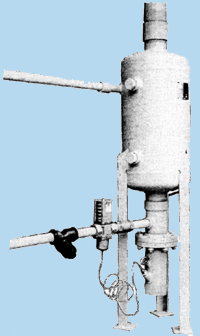 Proven Performance
The modern and efficient way of handling boiler intermittent blowdown. Separators have also been used for hydronic safety relief valve discharges, deaerator overflows, autoclave draining, and other high flow pressurized condensate to drain applications. The smaller diameter takes up less space then a traditional blowoff tank while providing an efficient separation of flash steam and condensate.
PROVEN DESIGN FEATURES
Penn has been a leading supplier of Blow-down Separators for over forty years. This experience goes into every separator we build. Standard features like stainless steel internals and self drying design assure years of trouble free service.


CYCLONE SPINNING ACTION
The tangential entry and small diameter creates a cyclone action to efficiently separate steam and condensate. The clean steam flows up through the vortex to the vent discharging quitely to atmosphere.


CONTROLS THERMAL POLLUTION
Most Separators come packaged as shown with accessories for automatic cooling of condensate to drain which meets local sewer temperature requirements. The package shown includes a A34B Separator with A100L Angle Legs, A18DF Aftercooler, Self Actuating Temperature Regulator Valve, Strainer and Bimetal Thermometer. Other package options are available.


Thousands of Satisfied Users Prove These Features.